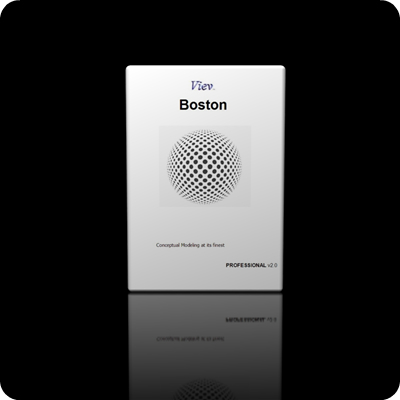 Enterprise modelling at its finest

Efficiently develop your enterprise models in Boston using natural business lannguage, Object-Role Modeling (ORM), Property Graph Schema, Entity Relationship models and State Transition Diagrams. ORM's fact-based modelling is world renowned as a superlative data analysis and database design methodology. Employ Fact Based Modelling in your enterprise and provide natural language semantics to your data.

Automatic Normalisation for Entity-Relationship and Graph Databases

Automatic conversion of ORM diagrams to Entity-Relationship Diagrams and Property Graph Schemas positions you as ready to meet modern conceptual modelling challenges head on.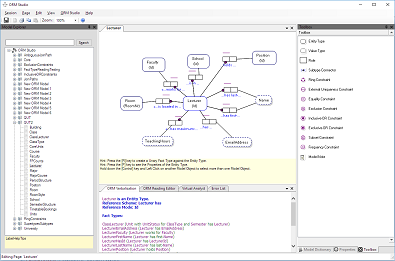 Conceptul Modelling for Multi-Model Databases
Boston is custom built for multi-modelling. Establish your model in Object-Role Modelling and then automatically convert your model to an Entity-Relationship Diagram or Property Graph Schema.
As industry leans towards Relational Knowledge Graphs and Multi-Model Databases you are prepared to meet the market head on with the most advanced conceptual modeller of its kind.

Use a world leading conceptual modelling tool to perform knowledge engineering and polyglot modelling for databases in the era of semantic modelling.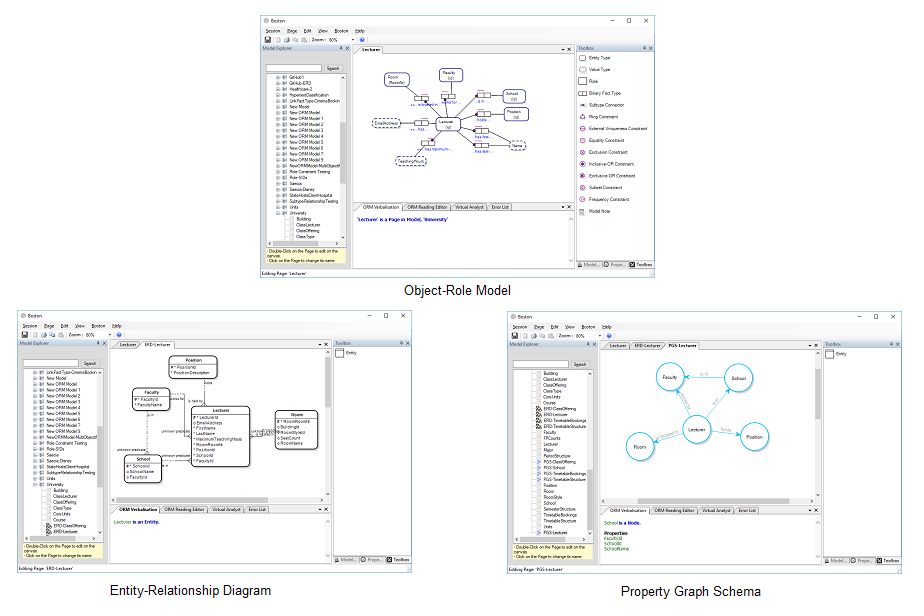 Boston is jam packed with features:


| | | |
| --- | --- | --- |
| - Natural Language Verbalisations | - Virtual Analyst (Natural Language Model Creation) | - Morphing between Pages (simplified Model Navigation) |
| - Error List | - Print / Print Preview | - Model Dictionary |
| - Unlimited Models in Model Explorer | - Automatic Normalisation | - Model Explorer |
| - Export and Import Models with XML | - Conversion to ER Diagrams and Property Graph Schemas | - Glossary View |
| - NORMA .orm file import |   |   |
Boston requires Windows 7 of newer.
Fact-Based Modelling
Boston's Object-Role Modelling is a type of Fact-Based Modelling.
Read More >>
Fact-Based Modelling is used for conceptual analysis and design, database design, ontology design.
 

Cloud - Real-time Collaboration with Boston Online

Do you need to work in a team where each person works on the same model? Ask us about Boston Enterpirse.
Glossary View
Modelling with Object-Role Modelling allows for rich, natural-language semantic information to be captured for your model. Boston's Glossary View allows you to view the natural-language extrapolation of your conceptual model. This information makes it easy to communicate the model with all stakeholders.
Generate Code or Data Definition Script

Use Boston's built-in code generator to generate software code or data definition script. Template driven, Boston's code generator is fast and easy to use.
Timeline

Boston has been under research and development since August 2007. Fact-Based Modelling software is orders of magnitude more difficult to develop than competing methodologies. In July 2015, Boston was released as ORM Studio and has seen steady releases since that date.
Boston v1.0 Released
Boston v1.0 is released as ORM Studio
Boston v2.0 Released
ORM Studio becomes Boston
Boston v4.0 Released
Object-Role Modelling, Entity Relationship Diagrams and Property Graph Schemas in one conceptual modelling tool.
Boston v5.0 Released
Code/SQL/DDL generation now standard in Boston Professional
FactEngine Released
FactEngine released as part of Boston 5.1